googledbc0612c557ec511.html

CHIMNEY SWEEP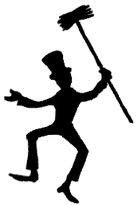 * Open Fires & Log Burners Swept for £40, using traditional rods & brushes.

* Free Chimney Clean Heat Log, included in the price, to burn after the flue has been swept.

***£5 Discount available for extra flues swept at same property***

***£5 discount for each client in the same or adjacent street***

*** Repeat Customers Receive A £5 Discount ***

*** All prices include a Visual Inspection & Smoke Draw Test ***

* Chimney Sweeping Certificate - add £5.

* Heavily sooted flues add £10.

* Birds Nests removed, £40 for the 1st hour, £20 for the 2nd.

* CCTV Flue Inspections Available.

* Cowls & Bird Guards fitted by arrangement.

Additional service:
Hire me out for your wedding! It's considered lucky, for a bride to see a chimney sweep, on her wedding day! Only £40!